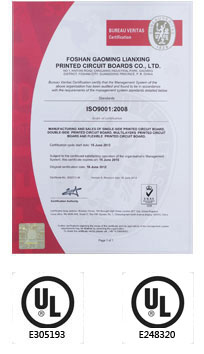 Lianxing always aims to insure customer satisfaction. We constantly improve our capability and satisfy the customer¡¯s requirements by introducing advanced technology, providing customized service, on-time delivery, best product quality, prompt reply and competitive price. And we strengthen the company¡¯s management and quality level through the practice of international system standard.
In order to ensure product quality, our policy includes 100% QC inspection and QA random inspection according to IPC standards and through using advanced detection equipments. We also own a physical & chemical laboratory, which can provide the professional and special analyzed data through the micro-sectioning and anti-stripping experiments. At the same time, all of the finished PCB products will execute 100% E-test inspection.
Before the production period, our engineering department will strictly verify all the data and complete a most suitable MI according to our inner production capability. All the production department then fully follow the MI during the production procedure.
Our experienced engineers will immediately make a detailed analysis and discussion, and then find out the best solution to solve all the product problems rapidly to maintain a continuous production when we receive production problem or the customers¡¯ new requirement or complaint.
Based on our efforts and policy on the product quality, we are confident that Lianxing will be your reliable source for quality PCBs, as we always look forward to offering you the best.